Crypto ha tenido una tendencia a la baja durante las últimas semanas, y NFT se dirige en la misma dirección a medida que disminuye el valor del dólar.
Tanto TerraUSD como LUNA cayeron en valor, registrando una enorme pérdida del 99%. Con UST (fijado al dólar estadounidense) ahora cotizando a $ 0.13, LUNA logró subir a $ 0.0000914 el viernes por la tarde, lo que hace que la moneda casi no tenga valor.
En consecuencia, los NFT asociados con Terra mostraron una caída en la actividad comercial.
Lectura recomendada | LUNA no está sola en Crimson: APE, AVAX, SOL, SHIB pierden un 20 % en un colapso criptográfico
Ethereum está perdiendo su brillo
Por otro lado, Ethereum (ETH) se cotiza actualmente a $ 2,000, que ha sufrido una caída en comparación con su valor comercial de $ 2,800 la semana pasada.
La caída en los precios de ETH ha provocado la caída en los precios de ETH NFT junto con una caída en las tarifas de gas que impulsan la cadena de bloques Ethereum.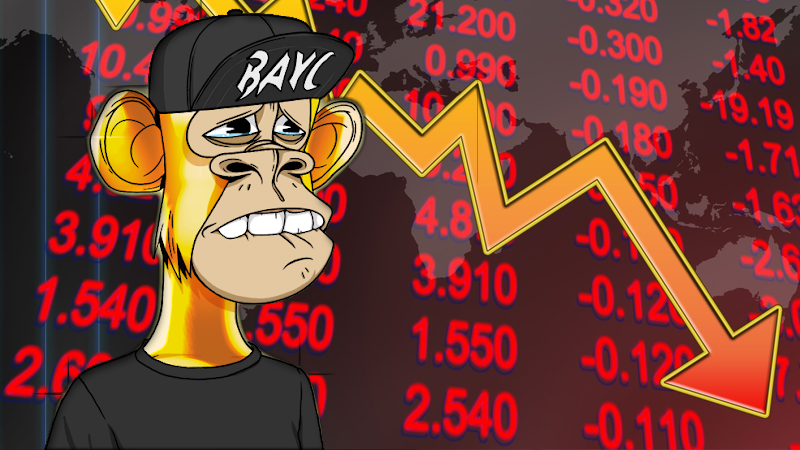 In the past month, the market value of Bored Ape Yacht Club (BAYC) and other blue-chip enterprises has reached new lows. (eSports.net)
Los proyectos de primer orden sufren un declive
Mientras tanto, CryptoPunks, Bored Ape Yacht Club (BAYC) y otras empresas de primer nivel también se han visto arrastradas hacia abajo, ya que su valor comercial ha caído a su nivel más bajo en el último mes. Sus precios han bajado un 63% desde el 12 de mayo.
La actividad diaria de venta o negociación ha sido increíblemente errática, en consonancia con el rango de ocho y 67 NFT visto desde principios de mayo.
Su precio mínimo se ha visto afectado, lo que provocó que cayera a alrededor de 89 ETH o $169 792 el 12 de mayo y reviviera a 99 ETH el viernes cuando el mercado se estabilizó.
Otherdeed NFT surge en medio de la caída de las criptomonedas
El precio de reserva alcanzó su punto máximo en 152 Ethereum durante el lanzamiento de Otherdeed de Yuga Labs en mayo para la colección Otherside.
Los NFT de Otherdeed han seguido aumentando como una de las 10 colecciones principales con el mayor volumen de operaciones desde su creación en el mercado de NFT de OpenSea. Otherdeed NFT está en la misma lista que otras colecciones de Mutuant Ape Yacht Club y BAYC.
Crypto total market cap at $1.23 trillion on the daily chart | Source: TradingView.com
Las transacciones de la colección Otherdeed se cerraron después de su lanzamiento. Los números han caído de la friolera de $ 375 millones a solo $ 6.5 millones en el momento de escribir este artículo.
A pesar del reciente declive, la colección Otherdeed for Otherside sigue siendo una de las NFT más codiciadas de OpeanSea en el mercado. También se encuentran entre los NFT más caros de esta semana.
Lectura recomendada | Shiba Inu contra Dogecoin y LUNA: ¿Quién sobrevivirá a la carnicería criptográfica?
No es solo la colección de Otherdeed la que ha estado dominando las listas durante la última semana. Otras colecciones de NFT, como Doodles, Azuki y Beanz, Art Blocks y Moonbirds, también se están moviendo alto en las listas de popularidad y precios.
Dadas las condiciones imperantes en el mercado, cada vez más inversores en NFT están en estado de pánico y buscan liquidar activos.
Mientras tanto, Meta actualmente está probando un visor NFT dirigido a un grupo específico de coleccionistas y creadores de IG. Se espera que esta nueva característica tenga un gran impacto en el espacio NFT una vez que esté disponible.
Featured image from CryptoHubk, chart from TradingView.com