Principios de julio, Binance Anunciado su última colaboración con la superestrella del fútbol Cristiano Ronaldo. La asociación lanzará una nueva colección de tokens no fungibles (NFT) denominada Forever CR7: The GOAT, que contará con 20 diseños únicos repartidos en cuatro niveles de rareza.
La colección celebra algunos de los momentos más icónicos de la ilustre carrera de Ronaldo, y cada NFT representa un gol o hito importante.
Colección NFT de Cristiano Ronaldo en Binance
La colección Forever CR7: The GOAT es importante porque marca un hito importante en la convergencia de deportes y NFT. Se espera que la asociación entre Binance y Ronaldo genere mucho interés en la comunidad de criptomonedas y deportes electrónicos.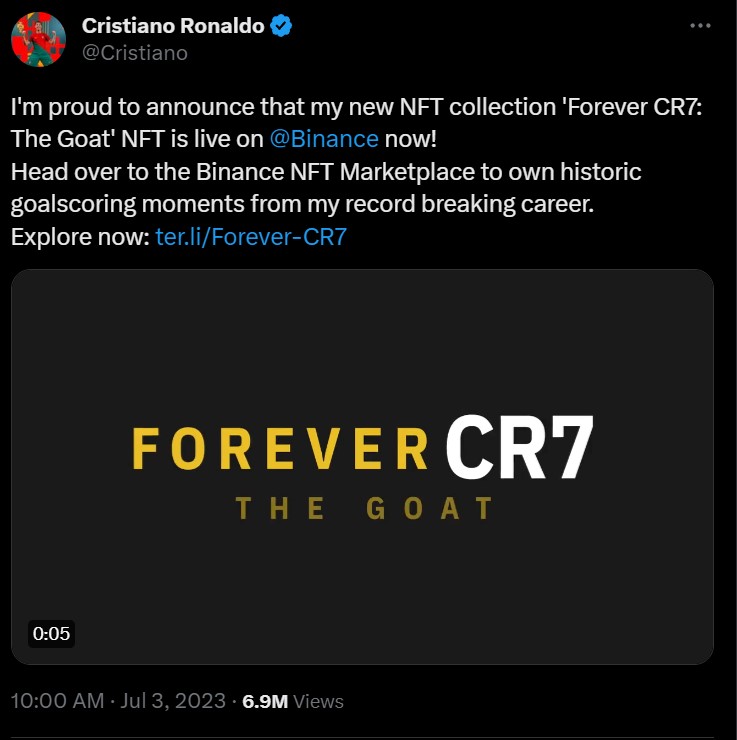 Al comentar sobre la asociación, el CEO de Binance, Changpeng Zhao, dijo que están emocionados de colaborar con Ronaldo en esta nueva colección de NFT. Ronaldo, uno de los mejores jugadores de fútbol de todos los tiempos, es un ícono mundial con muchos seguidores. Creen que la colección Forever CR7 será un gran éxito y un hito en la industria del deporte y NFT.
La creciente tendencia de los atletas a monetizar sus marcas a través de coleccionables digitales es evidente en las colecciones NFT de otras estrellas del deporte.
Por ejemplo, el mariscal de campo del fútbol americano Tom Brady se ha asociado con la plataforma NFT Autograph para lanzar una colección de coleccionables digitales en 2021, mientras que el jugador de baloncesto JaVale McGee está lanzando una colección NFT llamada Mint Condition a través del mercado NFT OpenSea.
Otras estrellas del deporte que han lanzado NFT incluyen a los jugadores de fútbol Gerard Pique, Mesut Ozil y el boxeador Tyson Fury.
Pero existe la posibilidad de otro enfrentamiento entre dos de los mejores jugadores del fútbol, ​​a menudo considerados los mejores del deporte, pero esta vez fuera de la cancha. ¿Lionel Messi ingresará al mercado NFT y lanzará su colección en asociación con un importante intercambio como Binance para competir con Cristiano Ronaldo?
Messi vs Ronaldo, ¿se acerca el enfrentamiento de NFT?
Lionel Messi ya se ha hecho un nombre en el mundo NFT con el lanzamiento de su última versión recopilación en colaboración con Ethernal Labs. La colección incluye cinco coleccionables digitales que conmemoran la carrera internacional de Messi, y se pueden comprar con el token criptográfico nativo de Ethernity, ERN.
En un comunicado, Messi expresó su entusiasmo por su última colección NFT y su asociación con Ethernal Labs:
Estoy emocionado de comenzar mi próxima colección de NFT en colaboración con Ethernal Lab. Espero celebrar mi carrera en la selección nacional con mis fanáticos con esta experiencia NFT en el mercado ethernity.io.
Existe la posibilidad de que Messi se asocie con un intercambio importante como Binance u otra empresa o proyecto para hacer crecer aún más su empresa NFT y competir con las ofertas de Ronaldo. Tal colaboración le daría a Messi acceso a un mercado más amplio y le permitiría llegar a una base de fanáticos más grande.
Esta perspectiva es aún más interesante dado que Binance es actualmente patrocinador de la selección nacional de fútbol de Argentina. Esta conexión entre el intercambio y el país de origen de Messi podría ser la oportunidad perfecta para que las dos partes se unan y creen algo extraordinario.
El patrocinio de Binance de la selección de fútbol de Argentina también podría brindar una oportunidad de marketing única para el intercambio. Al trabajar con Messi, Binance podría aprovechar la gran cantidad de seguidores de la estrella del fútbol y llegar a una audiencia más amplia en América Latina y más allá.
La popularidad y el éxito de Messi en el espacio NFT, junto con la reputación de Binance y el patrocinio de la selección nacional de fútbol de Argentina, hacen que esta colaboración encaje de manera natural. La última colección de NFT de la estrella del fútbol con Ethernal Labs ya ha demostrado que tiene el potencial para tener éxito en el mercado de NFT, y una asociación con Binance u otro proyecto podría llevar su oferta de NFT al siguiente nivel.
Imagen destacada de Cristiano en Twitter, gráfico de TradingView.com