Alrededor de 200,000 ETH ingresaron a los intercambios ayer, según los datos en cadena, una señal de que Ethereum pronto podría enfrentar más desventajas.
Las bolsas de valores centrales observan una entrada de 200.000 ETH
Como se puede ver en un artículo de CryptoQuant, ayer se infiltraron más de 200,000 ETH en las billeteras de Exchange. A la tasa actual, esa cantidad es de aproximadamente $ 839 millones.
El indicador en cadena relevante aquí es el flujo neto de Ethereum, que muestra la cantidad neta de criptomonedas que ingresan o salen de los intercambios centrales. Su valor se calcula a partir de la diferencia entre las entradas y salidas.
Cuando la métrica tiene valores negativos, significa que las salidas dominan las entradas. Eso significa que los inversores están retirando más ETH de lo que están depositando. Esta tendencia suele ser alcista para las criptomonedas.
Por otro lado, los flujos netos positivos significan que los intercambios están recibiendo una cantidad mayor de Ethereum de la que se está tomando. Dado que los inversores generalmente transfieren sus monedas a los intercambios para retirarlas en fiat o para comprar altcoins, los valores positivos sostenidos del indicador pueden ser bajistas.
Lectura relacionada | Escasez de Ethereum: después de London Fork, el cambio en el suministro en ETH cae a casi cero
Ahora, aquí hay un diagrama que muestra la tendencia del indicador de flujo neto ETH durante las últimas semanas:
Looks like the indicator has shown a positive spike recently | Source: CryptoQuant
Como muestra el gráfico anterior, ayer se observó un enorme aumento positivo del flujo neto cuando alrededor de 201,000 ETH ingresaron a las billeteras de Exchange.
Esta es una cantidad considerable de Ethereum y, como se puede ver en el gráfico, no se han visto entradas cerca de este nivel durante el período.
Por cierto, una característica interesante del gráfico son los enormes picos de descarga de hace aproximadamente una semana. Esas salidas totalizaron alrededor de $ 9 mil millones en ETH y salieron de los intercambios en solo tres días.
La afluencia observada ayer puede conducir a una disminución a corto plazo en el precio de las criptomonedas. Sin embargo, a largo plazo, los signos de la moneda siguen siendo optimistas, ya que las reservas de divisas han disminuido drásticamente recientemente.
Precio de Ethereum
En el momento de escribir este artículo, el precio de ETH ronda los $ 4.2,000, un 10% menos en los últimos siete días. En el último mes, el valor de las criptomonedas se ha apreciado un 4%.
Lectura relacionada | TA: Ethereum está reduciendo las ganancias, por qué este nivel es la clave para un nuevo aumento
El siguiente gráfico muestra la evolución de los precios de Ethereum durante los últimos cinco días.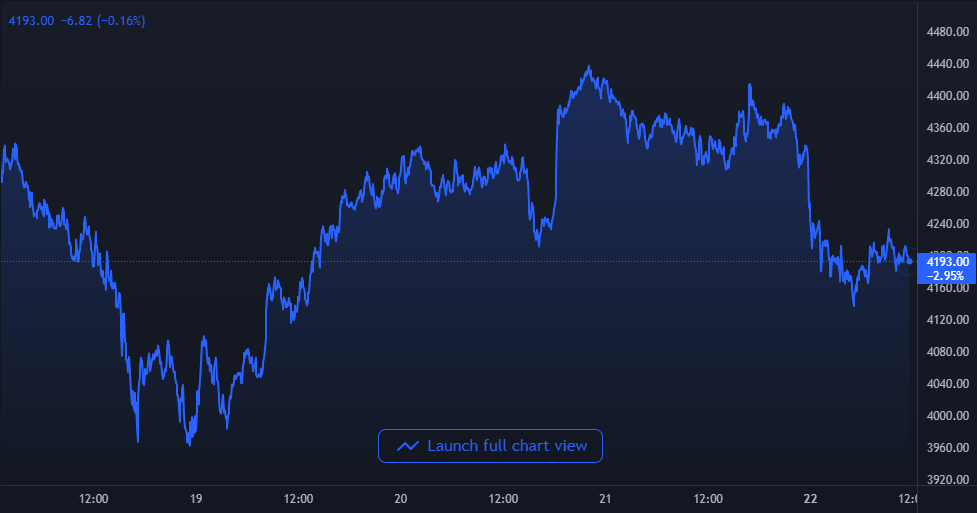 ETH's price has moved mostly sideways in the last few days | Source: ETHUSD on TradingView
Desde que Ethereum alcanzó un nuevo máximo histórico de más de $ 4.8k, el precio ha estado cayendo principalmente. Antes de eso, el precio cayó tan bajo como 3.9k antes de recuperarse a los niveles actuales.
Featured image from Unsplash.com, charts from TradingView.com, CryptoQuant.com